This week, the Republican Union of Agricultural Producers' Associations of Moldova UniAgroProtect (UAP) is organising – in close collaboration with the Ministry of Environment – Chemicals Safety Week in Moldova. During the whole week they organise events, workshops, round tables, flash mobs, 'ecological hours' in schools, and the like with different stakeholders and all over the country. The aim is to raise awareness about chemicals in daily life: hazards, possible protective measures and alternatives. So far, they have managed to generate a lot of media attention, including on television.
Of course I am far away from all this. After all, I am sitting at home in the Netherlands, behind my laptop. But through Skype I got a glimpse of these events today, as local consultant Marcela Vatamaniuc sent me a message to let me know it is all going very well and that the toolkit we developed together with great assistance from UAP and several experts was received warmly.
It was good to be reminded about our intensive cooperation earlier this year: together we developed a training and a toolkit for NGOs on chemicals management and awareness raising. Our task was to help NGOs develop attractive regional workshops on chemicals in daily life and to help them develop informational materials and campaigns on this topic as well. In order to do this, we also provided basic information on a set of key chemicals that are present in Moldovan households, work places and schools as well as on the legal framework regulating these substances in Moldova.
Legal framework
Moldova is Party to a great many Conventions, like the Basel, Rotterdam and Stockholm Conventions and SAICM. Each of these conventions governs different aspects of chemicals management, such as trade, transport, hazardous waste, and so on.
In order to make these international conventions "operational" in the Republic of Moldova, national laws and regulations have been developed and adopted. Different ministries and agencies are involved in implementation and monitoring of these laws. This way, chemicals management has been divided over 10 different central public authorities that deal with tasks like licensing and authorization, transport and disposal, emergency situations, etc. A new law that might improve chemicals management was at the time of the training still in the process of being adopted – whereas it had been drafted already in 2010. As a result there is no integrated life cycle management of chemicals across all branches of the national economy.
Labelling
An important piece of international legislation is the Globally Harmonized System of Classification and Labelling of Chemicals, GHS. This was adopted in 2005. Labelling is crucial to help people understand the risk of certain products and to help consumers make an informed choice about what to buy and what not.
Key Chemicals in Moldova

The key chemicals highlighted in the training and the toolkit are asbestos, cadmium, mercury, lead, POPs, Ozone Depleting Substances and PCBs. The main problem with these substances is that they are both highly hazardous and (have been) considered highly useful. They have been, and to some extent still are, used extensively and can be found virtually anywhere due to the fact that they disperse easily. Once you start reading up on those chemicals you cannot but wonder how on earth it is possible that they are still ubiquitous, not just as a result of having been used extensively in the past when people presumably did not know better, but also because they are still used. And not just in poverty-stricken countries, see for instance below.
Why NGOs?
You might have started thinking that the issue of chemicals management is by far too technical, political, international and complex for NGOs to play a meaningful role. When it comes to drafting the legal framework or enforcing it, that might indeed be true. But when it comes to informing and mobilising consumers, influencing producers and working with governments on formulating desirable steps to be taken NGOs are indispensable. NGOs are perfectly placed to 'translate' this complex topic into practical advice and easy-to-understand background information that consumers can use as guides when choosing what to buy and what not. After all, they have knowledge of the topic and do not have an own economic interest at stake. They also know about the needs and concerns and interests of ordinary people and can connect their information to these. At the same time, they can represent these needs, concerns and interests towards businesses and governments. Again, they can 'translate' these into the necessary jargon and connect them to the policy level. In short, they can bridge the gap between the policy makers and their citizens, and empower these citizens to make informed decisions.
That NGOs can be quite influential in their public campaigns, also internationally, was shown earlier this year when finally a temporary restriction was imposed on the use of neonicotinoids in the European Union.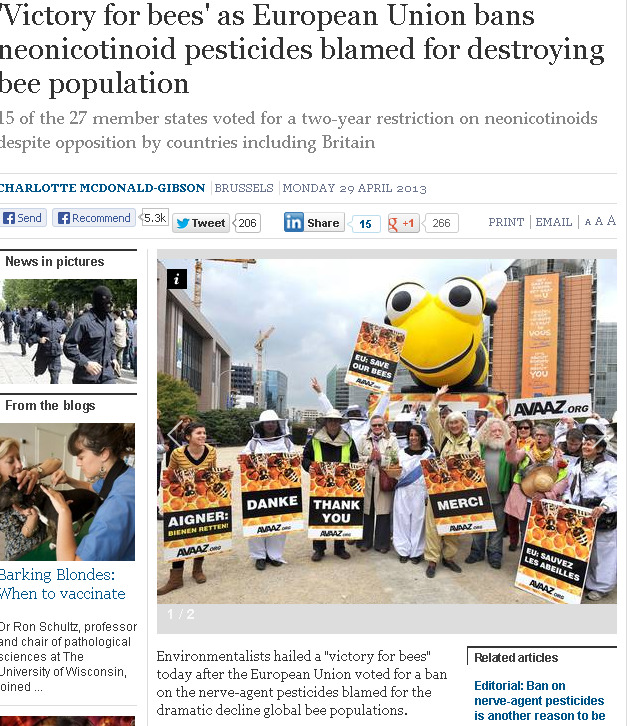 Interested?



If you are interested in reading more about the above topics, and want to read the toolkit, please contact me. It is available in PDF format in English, but too big to be made downloadable from here.
Collections of links on Pinterest
The toolkit was prepared in the frame of the project "Civil Society Capacity building in support of SAICM implementation in Moldova" that is being implemented by  the Republican Union of Agricultural Producers' Associations of Moldova UniAgroProtect (UAP). The project is supported by a grant from the SAICM Quick Start Programme Trust Fund.