As happens to the best of us, I found myself at a low ebb last week. This nagging feeling that things could be much better, if only I knew how.
And just I was trying to figure what I could do to make myself feel better, the mailman brought me a nice old-fashioned snail mail envelope. Sent by someone I know online only.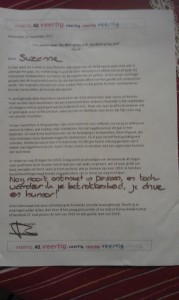 He sent me an invitation to use the remaining 40 days of 2013 to take stock of what and who inspires me, touches me, or makes me happy or proud, and what my dreams are for 2014. To make this easier, he sent me a small notebook and a felt tip pen along with his letter.
This invitation in combination with his personal message about his appreciation of my engagement, drive and sense of humour simply made my day. All this, despite the fact that we have never met in real life.
This made me realise that I have absolutely no reason to be moping around the house. Because, I, too, have people in my life that I appreciate, things that I like and that inspire me, and touch me. And all these things and people together bring me dreams, for 2014 and beyond.
All this happened almost a week ago. So what did I collect until now?
These are the people and things I am right now thankful for:
Roel Rotterdam, for sending me this invitation and message at the right time, among many other things
Ecaterina Melnicenco, for letting me dabble in social media coaching
Lidija Pavic-Rogosic, for taking one of my previous posts as a start for developing a very nice project proposal and also – on another level – for sharing a very nice Instagram video
Gerdi Keeler, for our cooperation as nul100 which brings me new ideas and inspiration almost daily
Barend Barentsen, for letting me ramble on about online tools in learning and all the things he could do
this week's online tools: PhotoSnack and GoogleForms
……
…. and there is so much more!
As it is ThanksGiving today, I would end by thanking Roel Rotterdam for his wake up call and inspiration! I wish all of you out there a happy ThanksGiving: