This summer I was finally forced to try Instagram. Until then, I must confess I had not bothered to. I do like photos, but I always seem to forget to take pictures even if that is nowadays as easy as not forgetting to bring your phone.
I first became more engaged with Instagram when the Dutch LOSmakers community organised a joint trial of it. The LOSmakers are interested in how social media can be used in processes of learning and change and the community members are focused on practical use of tools and exchange about experiences and best practices. True to form, the trial was practice-oriented: everyone who wanted to join was requested to post one photo each day during three consecutive days. The photos were to introduce yourself to the others. On the fourth day, a joint Skype session was held to share experiences and discuss how Instagram might be used in real life.
I was unable to join the Skype session, but did join the three-day photo posting preparation of it. And became hooked almost immediately. Why?
It turned out to be really very easy to take a quick snapshot of something around the house and to share this on Instagram
It turned out to be very nice to see how people reacted to this with comments and through their own photos – suddenly many of us started sharing pictures of our bookcases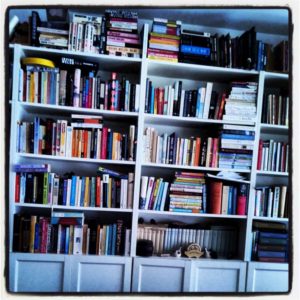 Some really nice conversations came about with people that I'd never met before, online or face-to-face
It was very easy to follow all posted pictures and conversations using Webstagram with a hashtag (web.stagram.com/tag/hashtag)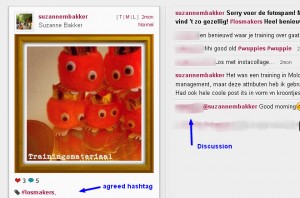 As a bonus, we discovered the InstaCollage app that enables you to make a collage out of pictures (whether Instagram or not) including text, frames and effects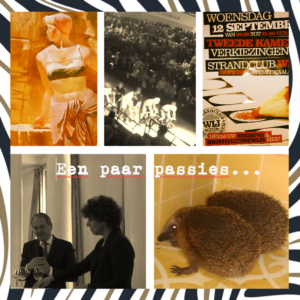 So how could Instagram be used in a learning situation?
As an online introduction exercise – ask participants to share pictures of something they did, of something that is important to them, of their kitchen, bookcase, etc. Keep in mind to connect the focus question for the introduction to the theme of the work to be done later on
As tool for reflection or evaluation – ask participants to share a picture that represents what they learned, how they feel, what was the most important insight to them, etc.
As a tool to take stock of a situation – ask participants to share a picture of their desk, of an annoyance in their daily work or life, of an internal notice board, etc. The focus question will of course depend on what you will be working on
As said, the easy part is taking snapshots with a phone or tablet. Most everyone can do this nowadays.
However, there are some hurdles to be taken. While Instagram allows you to like and comment, it does not send notifications when someone comments on your photo or on a comment of yours. This means you would need to regularly check to stay on top of ongoing discussions.
Webstagram does help, because you can search on the basis of agreed hashtag, and then just visit the search page (web.stagram.com/tag/hashtag) online and browse through. As long as there are not too many photos this is easy to do. It is also possible to comment and like via Webstagram directly, without needing to go to Instagram.
A practical issue is that some people prefer to have a private status on Instagram, meaning that only their Instagram friends can see their pictures. That could lead to a situation where people are posting, but not all participants can see these pictures, more or less forcing that person to change their privacy settings if they really want to take full part.
The main reason why I might be hesitant to use Instagram as a platform is that it requires an account. If you are going to work online with a group, you will already have a platform for which people need an account (Yammer, Facebook, LinkedIn, Wikispaces, etc) and to ask people to create an account on yet another platform and to have part of the discussion going on there might be too much. Especially, but not only, if the group is averse towards online tools in the first place. Replacing any of the other platforms would in my opinion not do, as Instagram does not have all the features needed for work in a closed group.
What the exercise did give me was a confirmation of the power of visuals, and the unexpected and interesting conversations that can come out of using photos and photo assignments. This is something I will certainly make use of. Those that have an Instagram account could then use that, while those that would not like to create an account on a new platform could for instance easily use Fotor, which can do much the same as InstaCollage, without account.
That does not mean that I would discard Instagram as a platform for learning and exchange altogether. I have experienced its power on the occasion of Croatia joining the EU as its 28th Member State, 1 July 2013. For many reasons this country has a firm place in my heart and I was very sorry that I was unable to be there at the magic moment. Instead, I became a Twitter junkie and followed whatever and whoever I could to stay updated in the days leading up to the 1st of July and on the night of 30 June. One of my new Twitter friends invited me to link also on Instagram, and that's when I discovered a wealth of picture posts. And it wasn't just enthusiastic Croatian citizens posting pictures of the main square, the Croatian government was really very active as well in sharing the atmosphere of these days, combined with information about Croatia and its accession process.
This unlimited sharing of information across borders is what, in my opinion, really shows the value of Instagram. After all, learning is based on being confronted with new information, reflecting on it and engaging about it, and embedding the new insights into your life somehow. Precisely that is what Instagram offered me in the lead-up to Croatia's accession and in the introduction picture round with the LOSmakers.