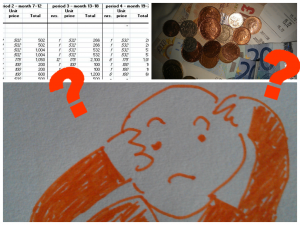 Are you a small NGO or foundation, struggling with financial and administrative requirements of your funders?Or have you grown so much lately that your procedures and practices need updating?Or do you have trouble making realistic budgets that leave space for organisational costs?
Changing Tides can offer you training and coaching on financial management and administrative issues from basic to advanced levels. Coaching on the job is possible on site as well as via Skype or other e-tools, at the moment and intensity suitable to your needs and availability.
Changing Tides' Suzanne Bakker offers a unique combination of experience in financial management & administration, project management and change processes that will help you tackle all aspects of this important part of your organisation's viability – from bookkeeping, project administration and accountability to financial planning and budgeting and to getting other staff and volunteers on board.
Contact me for a free intake in which we can together identify what needs to be done and what are possible challenges.