Changing Tides can offer support for all stages of the project cycle: from (participatory) project design, project start-up, project management and financial management to project closure and evaluation.
Support can consist of temporary management of certain activities or phases in the project cycle, of coaching those responsible for certain tasks, or of an on-the-job learning process for a project team or (some of) its members.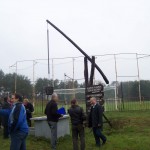 Suzanne Bakker has over 20 years of experience working with projects in the Netherlands and in different CEE, SEE and EECCA countries, and in different organisations. Projects conducted vary from small locally based endeavours to international multi-annual programmes. Themes she worked on include Participatory Development (Green Agenda), Rural Development, Capacity Building of NGOs and their networks, and EU integration. All projects were implemented in close cooperation with local partners and stakeholders, and activities took place on local, national, regional and international level. Participatory, transparent, democratic, open, empowerment and local commitment are key words in her approach.
Financially, projects conducted range from EUR 100,000 to EUR 2,000,000 and were supported by a.o. the Programme for Social Transformation of the Netherlands Ministry of Foreign Affairs (Matra Programme), the Humanist Institute for Development Cooperation (HIVOS), the Regional Programme Environment on the Western Balkans of the Netherlands Ministry of Foreign Affairs, and the European Commission.