Your Staff File Completeness
checklist
Are your staff files a bit like a box you never got around unpacking? Is it a nightmare to make an overview of used leave days? Are you constantly having discussions about your expectations of your team members?
Create clarity through complete staff files – now!
You want to have all the relevant information about each member of your team easily at hand. So that you can see in one instant how many leave days someone has left to use. So that you can verify that everyone received the rules for use of laptops at home.
You want to be sure you can provide your auditor with a contract that is not outdated. You want to be confident when a law enforcement agency asks about your ID checks.
You want to feel and be that professional nonprofit that is here to have a lasting impact.
This checklist, and the 8 videos explaining the building blocks of the checklist will help you gain clarity on what items you need to collect for your staff files to be ready for anything – professionally.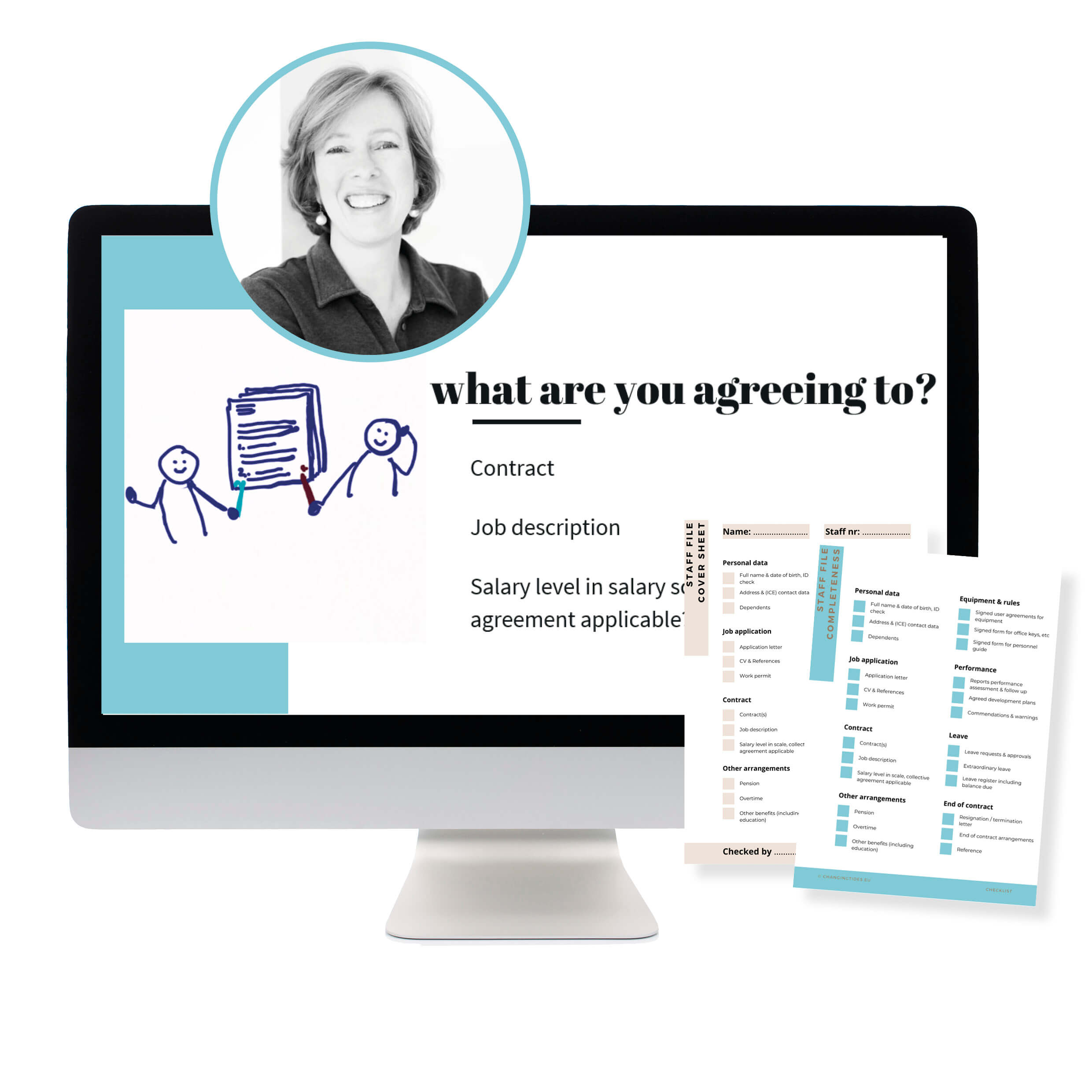 Your Staff File Completeness Checklist
Do you want to be confident that you have all documents you need to have about each of your staff members, past and present? Do you want to understand what these documents are, and why you might need to store them? Do you want to have a clear overview of information that needs regular checks and updating?
In 8 short videos I will walk you through the 8 main building blocks of your staff file completeness checklist. I will highlight for you what the main documents are that you need to have in place and why. You can print the checklist for your own use or make your own version based on the answers to the questions I ask you to look into in the videos.
If you follow the steps as explained you will have this at the end:
An overview of personal data.
All job application information.
An up-to-date contract and job description.
An overview of other arrangements, like a pension scheme and rules for overtime.
A set of signed forms for receipt of the personnel guide and the office keys and signed user agreements for equipment.
A complete set of performance assessment reports and development plans.
An overview of leave requests and approvals.
Insight into what is needed to prepare in case of the end of the contract.
Following the checklist and the explanation you will be able to ensure that all the information that you are required by law to verify and keep, all the information that auditors may ask you for, all the information that can avoid hassle in the workplace – and all the information you need to feel confident as a professional, is complete, correct and up to date in your files!
Grab your Staff File Completeness Checklist here!