Your Contracting
Checklist
Are you aware that employees and hired consultants, or freelancers, have a quite different legal status inside your team? Do you know that this has consequences for the responsibilities you and they have toward each other? As well as for taxes? Risks? Expectations? Do you know what lies at the basis of the distinction?
This checklist is also specifically suitable to the Dutch legal framework which is explained in a seperate video
Understand the differences between contracting employees and consultants
You want to be clear about the contract arrangements you have in place with your team members. Are you paying a monthly salary or are you paying on the basis of approved hours worked or for products delivered? Are you responsible for their pension scheme? Would you have to pay severance in case you stopped working with them? Are you paying taxes on their salaries or maybe withholding tax (WHT)?
You want to be sure that the tax office has nothing on you.
You want to feel and be that professional nonprofit that is here to have a lasting impact.
This checklist, and the video explaining it, will help you gain clarity on the criteria to distinguish between employed staff and external hires. They will help you make sure your standard contracts are properly set up. So that you can be that professional nonprofit with no worries about your contract paperwork!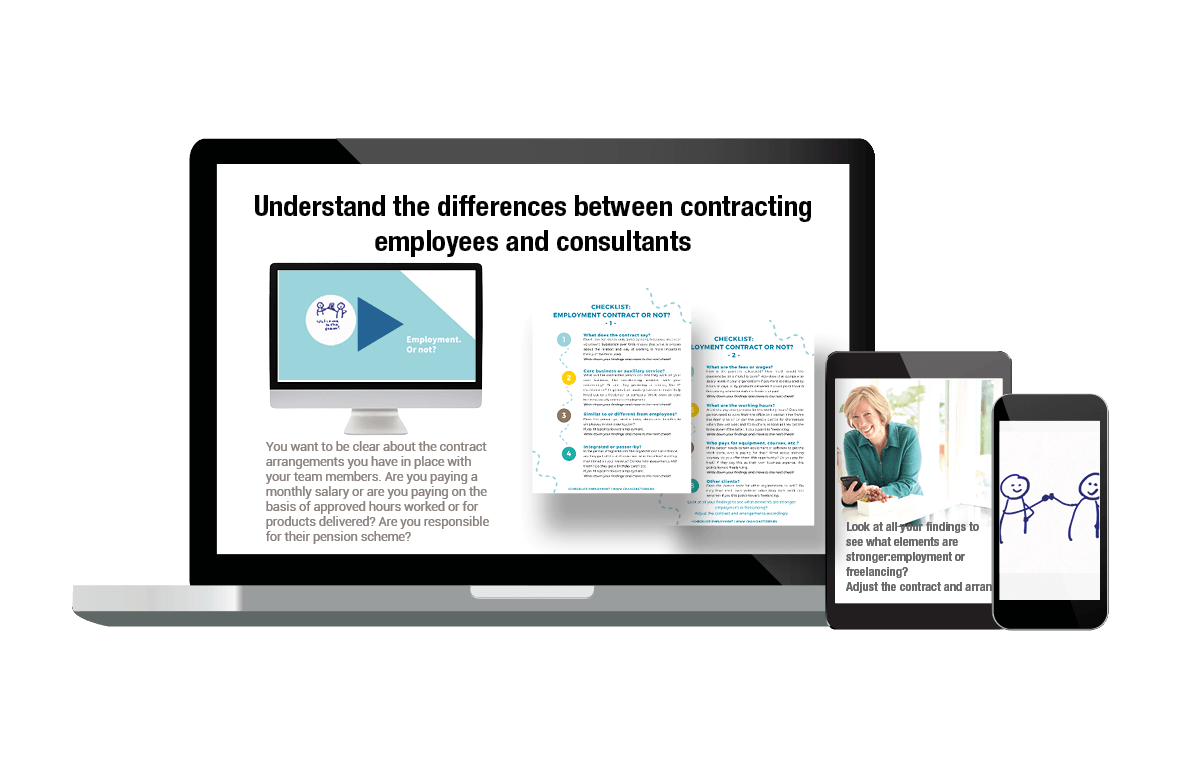 Your Contracting Checklist
Do you want to be confident that your contracts are setting out the arrangements and relationship the way you want to? Do you want to be clear on what your responsibilities are for your new team member? And do you want to be sure that they are clear on that, too?
Guided by the checklist, prof Barentsen of Leiden University will walk you through 8 indicators for contracting employees or external hires, freelance consultants. He explains the general principles that are applicable in all countries I have worked in and with. And he dedicates a separate video to the very specific and complex legal framework in the Netherlands, including the latest changes as of 2021.
 You can print an empty checklist for your own use to score your existing contracts to see what indicators they meet.
If you follow the checklist as explained you will understand at the end that:
Substance takes precedence over form in contracting.
The work to be done is important in understanding the status of the person doing it.
It matters whether the person enjoys similar benefits as (other) employees or not.
The set-up of the person within your organization impacts their status.
How the wages or fees are calculated and paid is an indicator for someone being an employee (regular salary payment) or freelance consultant (payment based on invoices for time spent or products/services delivered)
Working hours and who decides on what they are form an indicator, too.
It matters who pays for equipment and education needed for the work.
The fact that the person has other clients and a website advertising their services and work is an indicator for an external hire.
Following the checklist and the explanation you will be able to ensure that all your contracts are as you intend them to be – so that you can feel confident as a professional that your arrangements are clear for the contracted team member and for the tax office as well!
Grab your Contracting Checklist here!