Recently, I conducted a simple survey to find out more about the needs of smaller and bigger civil society organisations (CSOs) in the field of finance management. I received responses from people from very different organisations; bigger European organisations as well as smaller local groups, from Africa, Latin America and from former communist countries in Europe and the Caucasus.
I was interested to learn about their finance practice including the preparation of an annual financial statement; annual budgeting on organisational level; cash flow management; fundraising; and project budgeting, reporting and auditing. I am a nosy parker, yes indeed.
But I will use the input for the conceptualisation and development of online courses finance and organisational management for non profits. (The first course is foreseen to start online on 2 January 2018.) As I was quite surprised with some of the outcomes, I want to share some key findings here, too.
Project finance
Almost two thirds of respondents indicated that preparing a budget for a project, reporting on it and being audited on project level are easy for them to do. This is, in my experience, in line with the activity focus of most CSOs. They can design project activities and matching budgets, and can usually manage the funds they receive for these well and certainly well enough to not encounter big issues in project audits.
What surprised me is that 30% of the respondents indicated that making a project budget is a bit to very difficult for their organisation, while 37% found it a bit difficult to make a financial report for a project.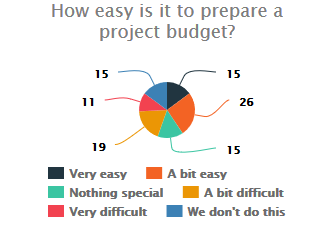 Annual financial report
Around half of respondents mentioned that they are easily able to produce an annual financial report, with balance sheet and profit and loss overview. 22% of the respondents do not produce annual financial data, and 26% finds this a bit to very difficult. This is a picture I can easily recognise with my own experience. While most organisations can relatively easily prepare a profit & loss (income & expenditures) overview, most of them have difficulty understanding the balance sheet and face a real challenge in preparing this. As a result, most NGOs do not produce a balance sheet. In case it is needed, they hire an external party to prepare this.
Of course there is nothing wrong in hiring external expertise for tasks you cannot get delivered in-house. However, when it comes to finance this can be tricky. Without having some level of expertise it can be hard to understand the presentation of data, and it will be even harder to verify if this is the best way of presenting your organisation. After all, whereas the profit & loss statement shows to what extent you are capable of managing your incoming funds in a given year, the balance sheet shows the longer term financial health and stability of your organisation. A rather important picture for the management to understand fully, and to take action upon as and when needed. At the same time, it is a picture that funders and investors are interested to assess as well, before deciding on a grant or investment.
Other finance management issues
My survey shows that in general, finance management can be a challenge for non-profits. More than 20% have a little difficulty in managing cash flow. 31% find it hard to prepare an annual organisational budget, whereas 48% says it is very hard to raise all needed funds for the organisation's activities and aims. Respondents mention they would like to learn more about how they can ensure their organisational costs are covered through a mixture of projects funded by different sources. In connection with this, several also state that they would like to see how one system can serve all different reporting needs.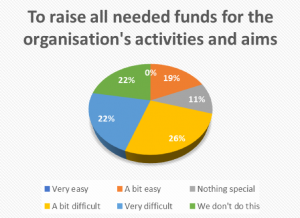 Conclusion
This is a very much simplified and shortened summary of the valuable input I received. It confirms to me that both smaller and bigger non-profits face serious challenges in understanding finance and in getting their finances in good order. It is hard for them to plan their finance, probably in part also because of the challenges in fundraising. Once funds are available, a puzzle ensues to see how all human resource and organisational costs can be covered to the extent needed, and how all this can be reported in the right way to the different funders. In this seemingly endless 'fight' for acquiring the means to actually work on the set goals to change society for the better, it seems the finance management of civil society organisations is bound to be the underdog.
This is where I want to contribute: I aim to make civil society organisation's (finance) management feel on top, enabling them to pursue their dreams in to the fullest extent possible in a sustainable manner. This is why I want to develop (online) courses for this group of professionals and volunteers, around different aspects of finance management. Practical courses, with theory and assignments and with personal feedback. If you are interested in joining, please do not hesitate to contact me or simply follow me online. In the coming weeks I will share regular updates about my plans and the upcoming courses. Save
Save
Save
Save
Save
Save
Save
Save
Save
Save
Save
Save
Save
Save
Save
Save
Save
Save
Save
Save
Save
Save
Save